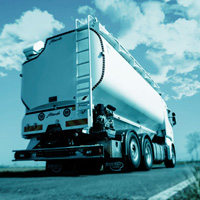 If you expect the most from your vehicle for your work: MENCI

an absolute dedication to the cause of quality, that has brought our company to the top in the European market of semi-trailers and bulk feed tanks.

This is MENCI Company philosophy!

To move successfully into the world of transports you need a good start point.
MENCI & C SPA was established in 1927 in Castiglion Fiorentino, near Arezzo, by Geremia Menci, a skilled artisan blacksmith who produced machines and equipment for agriculture, mainly plows. A specialization that seemed to mark the future of the company: as a matter of fact, it went on for years without particular changes.
Not even the entry in the company of the three sons Adriano, Luciano and Francesco during the Sixties saw the Menci abandon its roots in agriculture. But it was this specialization that led, in the Seventies, to the first construction of a bulk feed tank.
This event marked the debut of Menci in the world of industrial transportation and opened thus new production perspectives.